| | | | |
| --- | --- | --- | --- |
| Item Name: | impeller investment casting | Material: | Steel,alloy steel aluminuim,copper,stainless steel,plastic |
| Color: | Customized COLOR | Application: |  Industry, agriculture, engineering, machinery, etc |
| Finish surface treatment: | Galvanizing, painting, power  coating, dacro, oxidation | Size: | Customized Size |
| Process: | Froging ,heat treatment  CNC Lathe Machining, Milling, CNC machining center | Testing Equipment: | Food Machinery Assembly parts |
Image Gallery: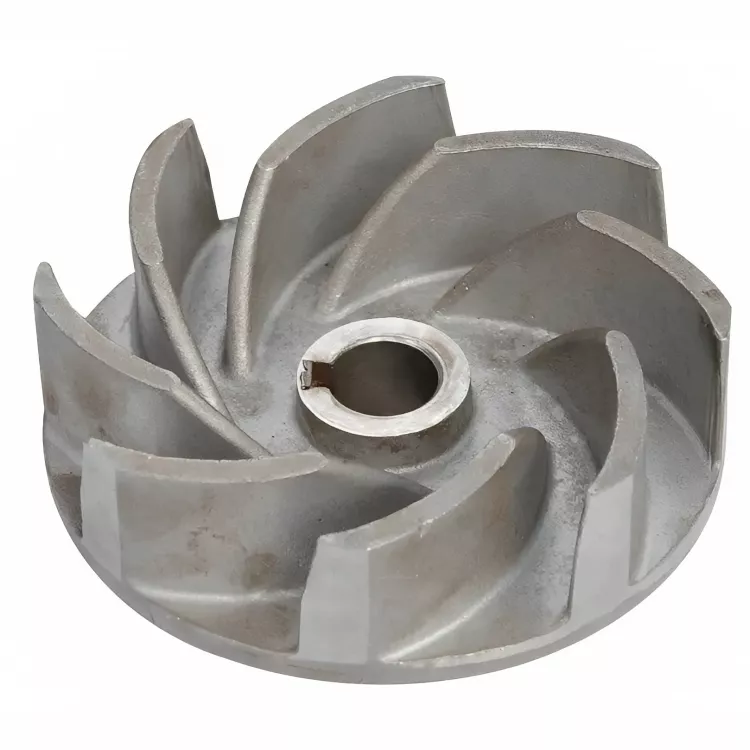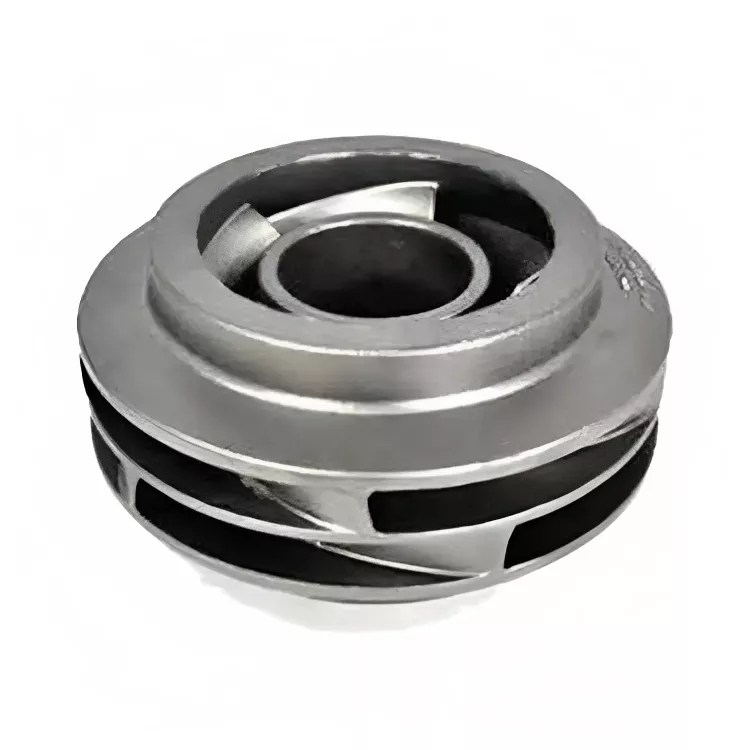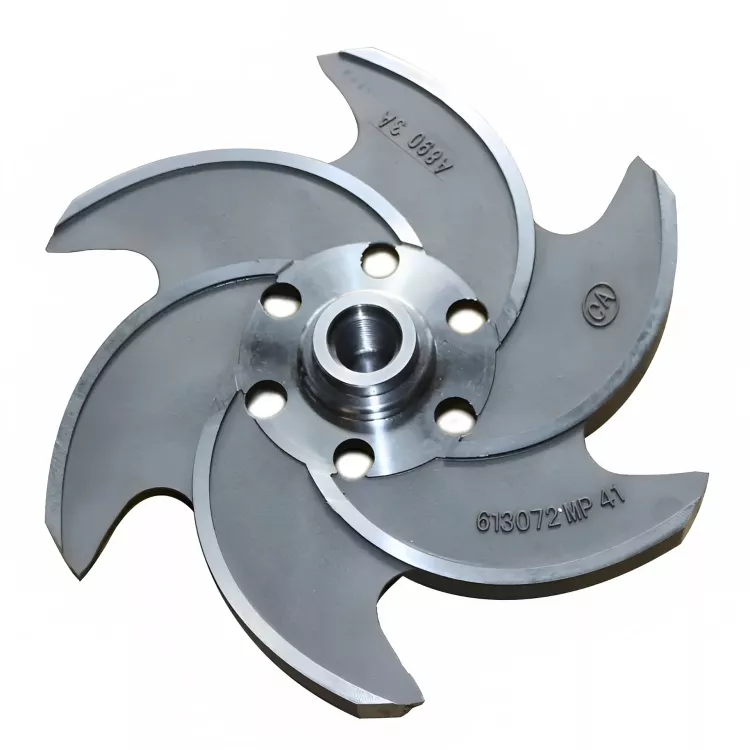 Product description:
Products are mainly used in the industrial field, agricultural machinery, engineering machinery, food machinery, packaging machinery and other applications, the main materials are plastics, copper, aluminum, stainless steel, alloy steel through different stamping, INVESTMENT CASTING, SAND CASTING, LOST WAX CASTING, FORGING, DIE CASTING, CNC MACHINING and other processes processing into various parts, according to customer requirements for production and processing, All production of parts materials, dimensions, surface treatment and other technical specifications must meet the customer's design drawing requirements.
development process:
We can produce according to customer requirements, after receiving customer samples or drawings, first evaluate the production process of the product, and carefully calculate the cost of the product, under the premise of ensuring quality, select the manufacturing process at the lowest cost. After the manufacturing process is determined, the parts that need to open the mold need to be developed in the premise, because the opening time will generally be between 30-60 days, so as not to delay the delivery time. Product engineers who need to manufacture different processes will plan and decompose 3D2D drawings according to requirements, and formulate SOPs, while carrying out quality control, testing and inspection tool design planning work, APQP PPAP FMEA and other control plans, to ensure quality under the premise of delivery to customers on time. After the customer confirms that the product meets the requirements, it will be mass-produced. Our products adhere to strict industry standards and customer standards. Strict implementation of IATF16949 quality management system, engineers with rich manufacturing experience in the industry and production workers who have been engaged in production for many years ensure the quality of products. To provide customers with high quality and high price products
Quality Control:
We have a complete range of testing equipment, with material mechanical properties, material chemical properties, size testing CMM, finish detection, surface treatment thickness, adhesion detection, salt spray test, metallographic analysis and other test equipment. Proficiency in the use of SPC, MAS quality data analysis tools to ensure the quality of the product.
About Us:
1.We have 630T-2500T forging equipment, products from 0.5KG-40KG production capacity,We have abundant experience of import and export, and can offer our clients good quality products with very competitive price and fast delivery. we can do according to your requirement. 2.Our strong R&D and QC department can control the products to meet your strict requirement. 100% according to your drawings and your samples. We offer the engineer consultation to your design for production improvement and cost saving. We can provide packing according to your specific requirements. 3.Our clients distribute widely, like in Germany, Norway, Poland, Finland, Spain, UK, France, Russia,USA, Canada, Brazil, Mexico, Australia, Japan, Thailand, Indonesia, Uruguay and many other countries.
Impeller Investment Casting is a precision manufacturing process used to produce complex impeller designs with tight tolerances and intricate details.
When evaluating impeller investment casting products, customers often consider various parameters and information.
Here is a sample product content introduction:
Introducing our high-quality Impeller Investment Casting products - designed for superior performance and longevity in various applications.
Key features and specifications:
1. Material: The choice of material is important for impellers, as it impacts the product's performance, strength, and corrosion resistance. We offer impellers made from stainless steel, carbon steel, aluminum, and alloy materials to meet specific application requirements.
2. Size and Weight: We can create impellers of different sizes and weights, depending on the customer's needs. Our advanced casting techniques allow for precise dimensions, ensuring a perfect fit for your equipment or machinery.
3. Surface Finish: Our impeller investment castings come with a smooth surface finish, typically around Ra6.3, providing an aesthetically pleasing appearance and minimizing internal friction losses.
4. Precision and Tolerances: The investment casting process ensures high precision and tight tolerances, usually within ±0.1mm. This, in turn, ensures the final impeller product has enhanced efficiency and performance.
5. Dynamic Balancing: Our impellers undergo a dynamic balancing process, ensuring stable operation with reduced vibration and noise.
6. Applications: Our impeller investment castings are suitable for a wide range of industries, including water and wastewater treatment, oil and gas, automotive, aerospace, and power generation.
7. Quality Control: We adhere to strict quality control standards, including ISO 9001 certification, to ensure our impeller castings meet the highest quality expectations.
Upgrade your equipment with our high-performance impeller investment castings, designed to meet your specific requirements and provide long-lasting performance in any application. contact us today for more details or to request a quote.
This introduction covers the essential aspects people consider while evaluating impeller investment casting products, including material, size, weight, surface finish, precision, tolerances, dynamic balancing, applications, and quality control.
Video:
Tags:
investment casting impeller investment casting
PROVIDING EXCELLENT SOLUTIONS BY SAIVS™
Speak to one of our experts today to learn more about our impeller investment casting products solutions.