Grey cast iron also known as flake graphite cast iron, is a type of casting iron in which most of the carbon is present as flake graphite .
The properties of grey cast iron depends on the distribution, sizes and amount of graphite flakes, and the matrix structure.
These factories are in turn, influenced mainly by the manufacturing conditions, chemical composition, solidification time and rate of
cooling in he mould. Grey cast iron exhibit low to moderate strength, low modulus of elasticity, low notch sensitivity, high thermal
conductivity, moderate resistance of thermal stock , and outstanding capability.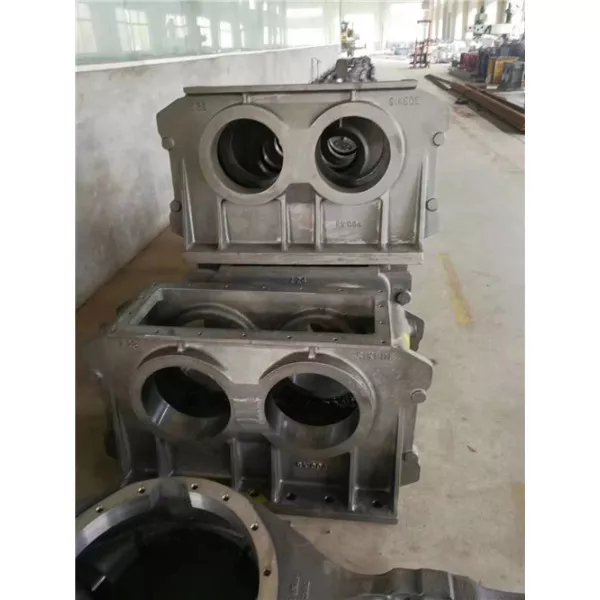 has many years of experiences to produce grey iron casting or gray cast iron. All of these grey casting

are used in the automobile industry: gear box body, pipeline system and so on. The normal material of grey cast iron is the following:
GG15, GG20, GG25.

Our factory supplys the volute casing, casing cover,bearing bracket, motor stol to mainly Europe market. The material is gray iron,
the process is Resin Sand Casting.
Ductile Iron Sand Casting Parts
Ductile Iron Casting
Gray Iron Casting
Vehicle machinery parts
Iron casting
Investment iron casting
Precision iron casting
Are you looking for top-notch Gray Iron Casting Gearbox Housing solutions for your industrial and mechanical needs? Look no further, as saivs, one of China's leading manufacturers and suppliers, has got you covered with its extensive range of high-quality gearbox housings.

Gray Iron Casting Gearbox Housing: The Pinnacle of Durability and Performance
SAIVS recognizes the ever-growing demand for reliable and durable Gray Iron Casting Gearbox Housing in various industries. Our gearbox housings are built to provide outstanding performance, longevity, and efficiency. We utilize state-of-the-art technology and precision engineering to ensure that our products meet or exceed industry standards.
SAIVS: A Factory You Can Trust
Our factory is situated in China, where we deliver world-class Gray Iron Casting Gearbox Housing, adhering to strict Quality Control measures and best manufacturing practices. Our dedicated and experienced team is committed to continuous improvement, ensuring that we remain at the forefront of Gray Iron Casting Gearbox Housing innovation and technology.
Comprehensive Range of Gearbox Housings
SAIVS offers a comprehensive range of Gray Iron Casting Gearbox Housing solutions to cater to varied industry requirements. Our products are crafted to provide exceptional performance, with configurations and specifications designed to withstand harsh operating environments and demanding applications.
Competitive Pricing: An Unbeatable Advantage
At SAIVS, we believe that exceptional quality should be available at competitive prices. As a leading manufacturer and supplier of Gray Iron Casting Gearbox Housing in China, we strive to make our products accessible to customers worldwide, ensuring that they receive the best value for their investment without compromising on quality.
Sales and Support: A Commitment to Customer Satisfaction
We pride ourselves on offering outstanding customer service and providing our clients with unparalleled support throughout the entire sales process. From prompt and accurate quotes to exceptional after-sales service, our commitment to client satisfaction distinguishes us from other manufacturers and suppliers in the industry.
In conclusion, SAIVS Gray Iron Casting Gearbox Housing solutions represent the pinnacle of engineering, durability, and performance in China's manufacturing sector. With our competitive prices, industry expertise, and unwavering commitment to customer satisfaction, choosing SAIVS for your Gray Iron Casting Gearbox Housing needs is the smart choice.
Don't hesitate - reach out to our team today for more information on our exceptional Gray Iron Casting Gearbox Housing products and let SAIVS help you drive your business forward!
Why Choose SAIVS™ as Your Supplier?
1.Superb Quality Control Management
At SAIVS, we take pride in our perfect quality management systems and procedures, which guarantees the excellent performance of all our producs, being a professional Investment Casting | Die Casting| Sand Castingmanufacturer in China.
2.Rich Production Experience
With 20 years of experience in production, SAIVS has a deep understanding of the market and trends, and strives for continuous research and innovation. This has created advantages in both the product's performance and appearance.
3.Competitive Prices
As a Chinese factory committed to becoming the most cost-effective Investment Casting | Die Casting| Sand Castingexporter in China, SAIVS provides high-quality products at advantageous prices. By lowering costs and increasing efficiency, we ensure that our customers receive the best possible value for their investment.
4.Perfect After-sales Service
At SAIVS, we strive to provide superior customer service that meets and exceeds expectations. We are always available for any questions or concerns you may have, and we stand by our commitment to providing excellent after-sales support.